As part of our commitment to ensuring portfolio managers and C-level executives are optimising every value creation driver at their disposal to develop their value creation plan, EXM has teamed up with Real Deals on their latest, and most exciting event - Real Deals Value Creation.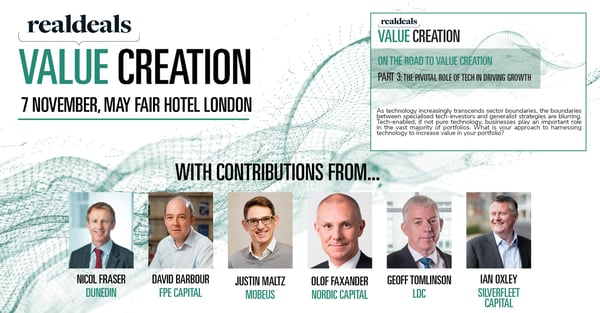 One of the first of its kind, this conference provides an opportunity to hear from the operating partners and portfolio management teams themselves. They'll be discussing how they've implemented value creation strategies to deliver top-line growth and drive EBITDA within their portfolio investments.
Real Deals Value Creation comments
"Building on 20 years of experience reporting on the deals shaping the Private Equity world, Real Deals is now looking at what happens after the deal is done.
In current market conditions, it has become more important than ever to create and enhance value in portfolio companies, drive growth and affect lasting change. Assembling leading market experts operating under varied value creation models, Real Deals Value Creation leaves no stone unturned when it comes to operational excellence and driving growth. Not only will we be looking at tactics to build the right strategy to enhance value; we will be addressing the varied challenges that come with integrating this crucial part of the business into the wider firm and finding the right value creation model to suit your investment portfolio and resources."
EXM is delighted to be participating and joining fellow sponsors at the conference taking place in the May Fair Hotel, London on 7th November 2019. Learn more about the sponsors.

For more information visit Real Deals Value Creation, check out the agenda or download the brochure.