Digitisation in Private Equity: Don't gamble with your Value!
It's no secret that the private equity and alternative asset industry is lagging in digital transformation with two excellent publications by PWC and KPMG confirming this.
KPMG's report "The digital transformation imperative" offers some fairly bold statistics and its introduction cuts to the chase immediately; "if you're running or working for a private equity firm and you haven't taken bold steps to integrate the latest digital tools and data and analytics technology into your business, you may be working with a built-in expiration date".
PWC's White Paper 'Private Equity & Digital Transformation' offers detailed findings, which 100 PE houses throughout Western Europe with AUM of min €250m shared with PWC on their views on digitisation and the value it holds for PE houses and their portfolios.
The general findings of PWC's White Paper showed that digitisation is very high up the PE agenda, being named as the most important mega trend influencing new investments of PE houses. However, evidence suggests that PE firms are yet to fully embrace digital innovation and transformation; 62% of all participants believe digital transformation helps create sustainable value, but only 25% have already assessed digitally transforming the organisation they work in and/or the portfolio companies they currently hold. Research data in KPMG's report reinforces this; 71% of PE firms surveyed are aware of the new digital platforms available but only 29% have implemented a new digital platform.
Overall the message is clear: competition in the private equity sector is more heated than ever and if firms want to maintain their competitive edge and create sustainable value for their investors, they are going to have to take advantage of digital innovation both internally and also in the selection and management of portfolio companies.
This is no time to gamble with your value! But what are the options? Here we look at five technology solutions for the investment management industry featured on Capterra to help improve your firms digital fitness.
1. UNTAP by EXM
What is it?
UNTAP by EXM is a cloud-based strategy execution solution that translates (digitises) a business strategy into an executable format helping your assets to define, communicate and control the execution of their portfolio companies business strategies around 'value-creation'.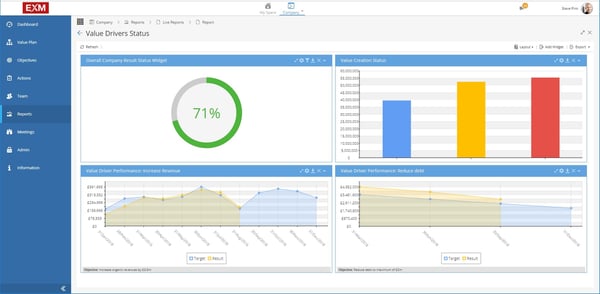 How does it help?
UNTAP by EXM supports your investment strategy from 100-day planning to exit by creating a controlled value-creation cycle to build a strategy that helps maximise the chances of a successful return for investors.
The solution helps improve the "digital fitness" of companies you invest in, moving away from simply providing capital and becoming strategy partners, it allows interaction with your portfolio companies to accelerate value creation.
Features
Value Plan digitisation
100-Day Plan Execution tracking
KPI Tracking
Execution Management
Risk, EGS & Compliance Monitoring
Performance Metrics
Portfolio Management
Risk Management
Ease of implementation and use
The software is cloud-based so all you need is an internet connection. You will receive your login details and password and once you have logged in you can start using the solution immediately. The solution is also available on a mobile app for Apple IOS or Android. Why not try the free demo today!
UNTAP by EXM is powerful, yet simple to use. Full training is provided either by phone or in the customers office and all users have access to the Knowledge Base. The UNTAP by EXM support team is available via phone, email or online chat.
What is it?
eFront Insight LP, provided by eFront Financial Solutions is web-based, analytical platform for the alternative investment market.
It is designed to integrate data from eFront Data Intelligence to enable limited partners to generate superior insights, enhancing their decision making for due diligence and portfolio construction processes.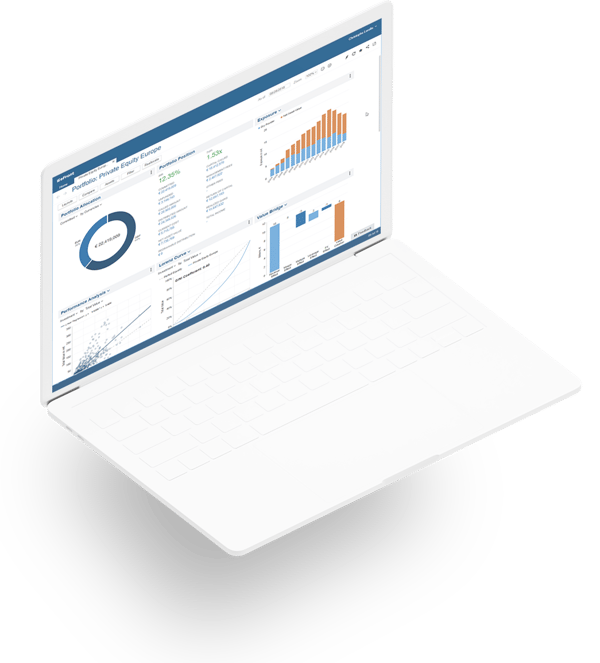 How does it help?
It helps limited partners meet the increasingly complex data challenges in alternative investment, namely
Data Availability
Benchmarks
Performance Evaluation
Due Diligence
Features
Benchmarking
Fund Management
Portfolio Management
Risk Management
Ease of implementation and use?
Thanks to eFront Insight's intuitive interface, you can get up and running with zero time required for implementation and training. By leveraging standards and a known data source, eFront Insight removes the need for lengthy and costly set up projects, enabling investors to generate insights immediately.
Training and support
Training is available via documentation, webinars, live online and in person. Support is available in person and online during business hours.
What is it?
Ipreo's iLEVEL platform is a cloud/web-based portfolio monitoring solution that enables private capital investors to seamlessly evaluate and report on the performance of their portfolios. It is designed for Buyout, energy, infrastructure, distressed, mezzanine, venture, growth equity, real estate, credit funds, fund sponsors, co-investors, funds of funds, fund admins and institutional investors.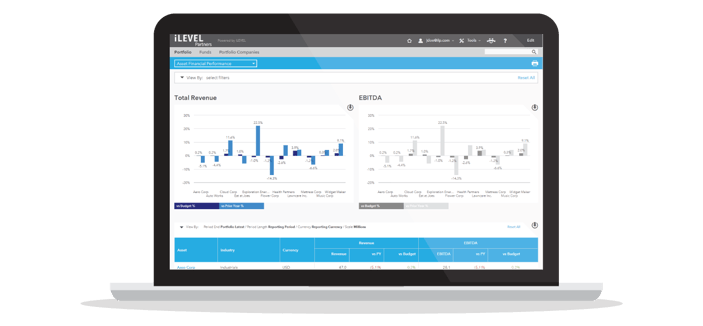 How does it help?
iLEVEL simplifies the process of collecting data from portfolio companies and fund investments, aggregating and centrally storing it. iLEVEL dramatically reduces time and effort expended by your front and back offices while supporting a new level of integrity, insight, and responsiveness for the entire firm. iLevel drives best-practice monitoring, analytics, valuation and reporting.
Features include
Benchmarking
Compliance Management
Fund Management
Performance Metrics
Portfolio Management
Risk Management
Ease of implementation and use
According to its reviews on Capterra the solution is "Customizable, easy to use, and great for normalizing the financial statements uploading process".
"The platform is very well designed and the company is very high quality across the board ranging from fundamental technology through customer service and support. iLEVEL has allowed us to improve and expand almost every single process at our firm and has done so without the need to add headcount or require external consulting."
Training and support
Training is available via documentation, webinars, live online and in person and support is available 24/7.
4. Dynamo by Dynamo Software
What is it?
Dynamo is a web-based CRM solution with industry-specific capabilities for managing the front and middle office operations of alternative asset investment firms. It is used by Alternative Asset Managers in multiple verticals, including hedge funds, funds of funds, private equity, venture capital, institutional investors, family offices and prime brokerages.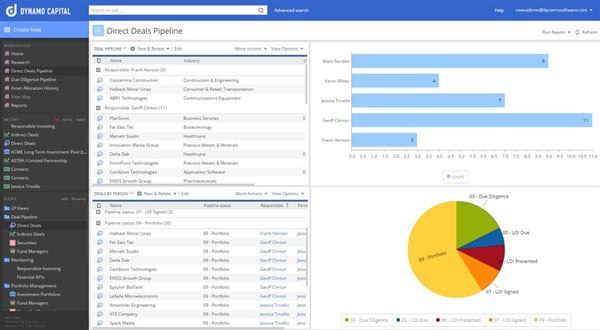 How does it help?
It helps optimize the productivity of both general and limited partnerships, while providing innovative solutions to facilitate data exchange between the partnerships.
Features
Accounting Management
Benchmarking
Client Management
Compliance Management
Fund Management
Portfolio Management
Ease of implementation and use
According to reviews on Capterra "I have used a few CRMs throughout my career and Dynamo is the most user friendly and easily customizable of the lot."
Training and support
Training is available via webinars, live online and in person and support is offered online during business hours.
5. Everest by Black Mountain Systems
What is it?
Black Mountain offers a suite of best-practice investment management solutions that drive efficiency, transparency, and compliance. The solution is available both as a cloud-based or windows installed. The solution can be configured to your firms specific requirements.
How does it help?
Everest helps investment managers, credit funds, hedge funds, private equity, direct lenders and banks to manage all varieties of loans.
The platform aggregates data from proprietary and third party systems and data sources, giving investment professionals the ability to make highly informed decisions. It enables portfolio managers to see and report the data beyond the numbers.
Features
Benchmarking
Bonds
Commodities
Compliance Management
Fund Management
Performance Metrics
Risk Management
Ease of implementation and use
Black Mountain's integrated platform offers low-risk and rapid deployment of fully supported solutions for all asset classes with the flexibility to conform, adapt, and grow with changing company, strategy, and regulatory needs.
Training and support
Training is available via documentation, webinars and in person and support is available in business hours.
Learn more about Black Mountain.
Five technology solutions for the investment management industry
EXM by Hydra
eFront Insight
IPreo ILevel
Dynamo Software
Everest by Black Mountain
What Next?
Could the right strategy execution solution help you reach your strategy execution goals? Are you ready to take the next steps in developing the digital fitness to transform your strategy execution capabilities?
Download our brochure today to learn more about our digital solution to translate your Company's strategy into an executable 'Value-Creation Plan.