How BSO transformed the execution and delivery of its business plan
Ian Baldwin, co-CEO of Building Supplies Online (BSO) chats to us about how the business was conceived, its ambitious growth plans, why he chose EXM, the value its adding to the Business and the partnership with Hydra.
Have a watch of the video, or if you're a believer in fast scrolling - full transcript is below.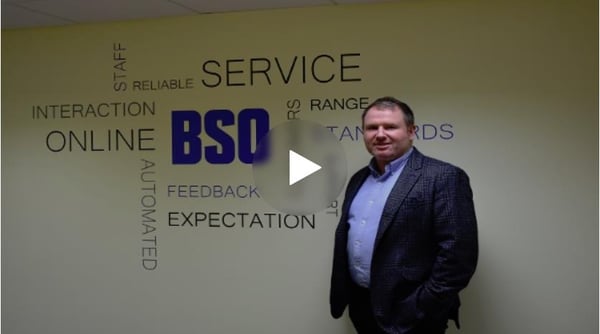 Who are BSO and what is its growth plan and challenges?
My names Ian Baldwin and I'm a Co-CEO of Building Supplies Online. We conceived the business around 10 years ago, really looking at a gap in the market for a company that was sitting between a traditional DIY shed and a builder's merchant. So, we're an online business that sells traditional building products to trades people and consumers. We really started from a small acorn, only two of us in the business and we grew it organically over two or three years, adding product and inventory and servicing the tradespeople and really seeing some great growth in the early years.
About 5 or 6 years into the business we moved our ecommerce platform onto a more up to date system and see the business really move on a gear. After a few more years we basically realised that the growth we wanted to achieve, we needed some help. So, we looked around at a partner to really sit alongside us and help us reach the objectives that we were trying to achieve which was become one of the disruptive business within the online DIY trade sector. At that point we met Cairngorm Capital and we decided to partner with them and we've been within them since November 2017 and since then we've seen our growth accelerate through, we've got an excellent Board onboard with us now that help us really connect us with the outside world, whereas we were in a bubble on our own and now we've been exposed to much greater contact depth and we've really have got some great growth plans over the next three to five years which involves upscaling our infrastructure, recruitment, getting some industry experts within BSO to really help drive the business forward. The main focus of BSO now is really servicing that trade customer and making sure that we offer something slightly different to a traditional merchant that they don't get. So, we're looking at delivery proposition and service as our two main drivers going forward and we're really excited about the next three to five years and where we could end up. We're aiming to be around a £50 to £100 million business within five years, so we've got some ambitious targets, but we've got the right people onboard and hopefully the technology that we employ will underpin that.
A Blueprint for the future
After we completed the transaction with Cairngorm Capital we employed a consultancy to create a Blueprint for us, a plan to see us over the next three or five years and that involved how we go about penetrating different markets. It's a really comprehensive plan, the problem we found with that was how we actually monitor and get a clear overview of it, other than a document it was quite difficult. So, we came across EXM and what they did was overlay our business plan on to their system for us. It enables us to see key value drivers and make sure we're hitting those KPI's within that. Otherwise we're left with a suite of documents that we can't really pull together that well and people involved in the business both outside and in struggled to track where we are so once we got a plan on EXM we really found that it helped us visualise and keep track and report on where we were with our key value drivers. I think going forward if we use EXM to make sure we're on target, and you can adapt it, and we've changed it slightly from the initial plan but fundamentally it is our Blueprint on a system which we can track both individual KPI's and business KPI's on.
How easy was the transition to EXM?
The transition has been really seamless in the fact that they understood from a private equity background what we needed to see and how that business plan would look on their system and working with them ongoing we've managed to tweak the system so that we get what we need out of it, so we use it for things like managing our board reporting, we create board meetings on there, put our board packs on there so we can archive all that. We can see where we are on the curve so if we're off on a certain tangent then that pulls us back and it creates alerts to myself, team and the private equity fund, that things are either going well or things are going way above what we thought, and it really dials us back in to focus on what we should be doing. The reason why it is also a good fit is because the people involved in EXM are very much aligned with private equity and the fund management and the business as well. So rather than sitting on one fence we found that we can work well with both private equity and EXM to get a solution which really creates value from the plan, because otherwise it would be sitting as a dormant document and it's really hard to execute or manage. Going forward we'll probably add some more things to it but fundamentally on a day to day basis some of my team are using it for individual KPI's, we're using it certainly as a business plan overview, we're dialling into the fund in terms of KPI metrics, The idea behind EXM is that we overlay our business KPIS' and everything which we look at on to EXM so everyone can dial into it and get a good overview of where we're at, great for team motivation in terms of people seeing where they're at individually and also it makes them feel part of the business and the fact that they can see where we are with the progress of BSO as a whole. It really helps in terms getting everyone involved. We tend to use the phone app quite a lot as well because some of my staff are out on the road, so they can dial up the KPI's on the fly almost, so that's really useful as well. It's going to add value to our business in the fact that it really gives a live, early indicator of when things aren't on track and if things are going really well, in one aspect we can push the dial.
How has the relationship been with Hydra EXM?
From the start Hydra EXM took the business plan and did a fantastic job of taking that plan which was a huge piece of work, very extensively. We had a consultancy work on it for three months so by no means was it a small piece of work, it was a massive piece of work. They manage to overlay that really well, so when we opened up EXM initially it looked identical to the plan that we saw on our document. The great thing is that they work with us to tailor it, so initially the plan was on there, but we want to see some different outputs or maybe things have slightly changed. The great thing about the relationship is that they've been flexible and can tweak things for us. So, we've made a few fundamental tweaks along the way and we're getting to the point where we're 100% happy and things change anyway so it's been really flexible to enable us to change when we need to.
How has EXM helped BSO become more agile?
As opposed to having a plan and not having EXM, EXM allows us to adapt the plan quite quickly and it affects all the other drivers so if you got a plan which basically all the drivers sit in silos separately. What EXM manages to do is pull those drivers together and see what effect it has on the overall value plan. So, at any point we can see that any new things that we actually want to do, how that affects both the value of the plan, the value of the drivers, and basically kneads it all together, which we wouldn't see from a purely documentative point of view so, its been really good in that if we want to do something or the plans change slightly we know its flexible, we know we can add it into EXM and we can also see the output in terms of what it looks like and how that affects the value of the business.
How has EXM improved BSO's alignment and communication?
The great thing about EXM is that basically the communication channels are made so much easier because someone is alerted to when something changes, so everyone can be assigned certain tasks or objectives in the programme and the communications channels. We don't find ourselves having to do as many phone calls, as many emails because everything's there for anyone to dial into at any one point so I think as the plan gets bigger, as it will do and evolves, the scalability of it is much easier to manage. communication-wise because literally we don't need to increase our communication or create a cottage industry out of mini reports about these things, so it really helps in that aspect.
How has EXM helped the relationship with your investors?
The relationship with the investor improves immensely in terms of they understand where we are in the grand plan at any one point which means we don't have to feed into them as much as we would do if we didn't have EXM because otherwise they're not too sure on the progress. With EXM we've created a method of communication which doesn't involve them helicoptering over us every single week or day. When they can see the trajectory and the direction of travel any one point they feel more comfortable with where we're going and how we're doing so it really gives transparency to not only the business but the investors as well so gives us confidence and gives them confidence of what we're doing.
How have your teams embraced EXM?
The good thing about EXM is unlike some things we may have implemented in the past is that the learning curve is very, very short, so it's very steep and short, so once people start using it within a few days its really straight forward. The functionality in terms of searching and assigning yourself tasks and objectives is very straightforward so there isn't a great deal of training that's needed for someone to get on-board with EXM and now the staff can see the value from it, especially when they're involved in tracking their own KPI's, we've managed to overlay some key staff members that are fiscally targeted onto EXM so instead of creating separate reports for them, again they can dial into to their own logins to see where they are with their own KPI's, which as a motivating factor is a great thing, it involves less work our end as well so once you've set it up it really does flow through quite nicely and most of the team are now really comfortable with it and it didn't take very long to get on board with it.
How do you see the relationship with EXM growing?
I see the relationship growing with Hydra EXM and BSO in that the more day to day functionality of reporting, communication between us and private equity fund is taking the burden from the manual side. We spend a lot of time creating reports and updating KPI's and things that we do on a separate manual basis, we really want to look at building those into EXM so eventually it's an all-encompassing piece of software that looks at the business from a big fish-eye lense and we can dial into various departments from there.
Follow us on LinkedIn to keep up to date with all EXM's upcoming content.